Australia's next tennis superstar
This Australian Life -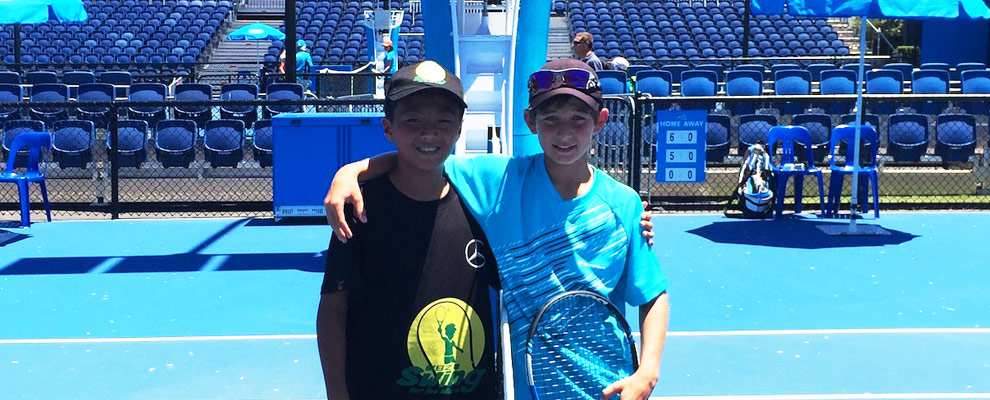 Kolt Piggins-Nassaad has his sights set on following in the footsteps of Australia's greatest tennis players. His mum reveals what it takes to support the dreams of a future champion.
Kolt, now 13, was just three years old when he picked up a tennis racquet for the first time. It wasn't long before his coach pulled Kolt's mum, Michaela, aside. "Your son is athletic," he said. "He could be a good tennis player, or golfer or cricket player."
At the time, Michaela didn't take much notice. "I thought, let it go. It's no big deal," she says. "I played tennis as a young girl and my dad did, too. I introduced Kolt because I didn't want him to play a contact sport, like football."
As years passed Kolt grew increasingly attached to his racquet. Whenever lesson time came around, he'd jump straight in the car. No whinging. No arguing.
Now, he's a rising star at the Wentworth Tennis school in Paddington, NSW. "He was always so keen," Michaela says. "When he turned eight, he started training at the Illawarra Tennis Centre, Rockdale, NSW. His coach, Graham Pearson, really took him to the next level."
Not surprisingly, Kolt already has a list of achievements to his name. In 2016, he won the Tony Roche Cup at the NSW State Teams Championships. The year before, he played in the Under 12s at the December Showdown, an annual tournament that sees Australia's best young tennis players go head-to-head.
In June 2017, he'll head to the Pro Tennis Academy, Florida, on a scholarship, to train with some of the greatest coaches in the world including Rodrigo Vallejo and Cougar Arande.

A typical day
"I never thought I'd be a 'tennis mum', but here I am," Michaela laughs. "I'm the taxi driver and the chef. I pick him up from school, with a meal prepared because I know he'll be starving and I don't want him eating junk. When we go to tournaments we take a portable fridge for drinks and sandwiches and soups."
Kolt trains six times a week. On Tuesday and Thursday afternoons, he attends private lessons. On Wednesday and Friday he hits the courts at 7am to train and, as soon as the school bell rings, he's off to Tennis FX squad for three hours.
The challenges
Raising a champion isn't cheap. "My husband and I both work full-time," Michaela says. "Tennis can get very expensive - everything adds up. The last pair of shoes I bought Kolt cost $180, but only lasted three weeks. Shoes wear out really quickly." Michaela also has a seven-year-old, who has private lessons and plays on the FX squad too, doubling the cost.
Kolt also still has to find time for homework. That means developing the time management skills you'd expect of an adult. Homework gets done in the car, on weekends and Monday afternoon. "He works for an hour or two at a time, so he doesn't feel overwhelmed," Michaela explains.
Inevitable injuries
Then there's risk of injury. In December 2015, Kolt developed the painful condition sesamoiditis, inflammation of the bones brought on by a mix of training hard and growing fast, in his feet.
By April 2016, tournaments were out of the question and playing was limited to synthetic courts. But giving up wasn't on Kolt's radar. "At the moment, he has to wear orthotics and ice his feet after every session, and he always gets on with it."
Mental endurance
Kolt also has to prepare for the psychological challenges that come with a high pressure sporting career. This Last summer, Michaela sent him to Tennis FX Academy for three weeks.
Michaela explains, "For the first fortnight, he trained for six hours' a day. He spent the third week away from home in Terrigal, NSW, where he had to live like a pro tennis player. He had to run six kilometres each day, as well as cook and clean for himself, and budget for food on $10 a day.
"It was a steep learning curve, but he came back a changed boy," Michaela adds. "He's more mature and respectful. I think he's realised how much work I do, getting him to tournaments and making sure his food and drinks are ready. He's also keener and more focused. Now, he really believes he can make it. But he also knows he really has to put his head down and his bum up."
The future
"Kolt would love to be a pro tennis player and he's been told he could make it," Michaela says. "I help him set goals because, without them, it's hard to keep motivated. But, at the same time, I've always told him, when you've had enough of tennis, just let us know. One thing's for sure, tennis has taught Kolt that, if you want anything in life, you've got to be disciplined and apply yourself."
To help your family's dreams come true, learn more about how TAL can help you protect your financial future .