The race to breast cancer recovery
Health & Wellbeing -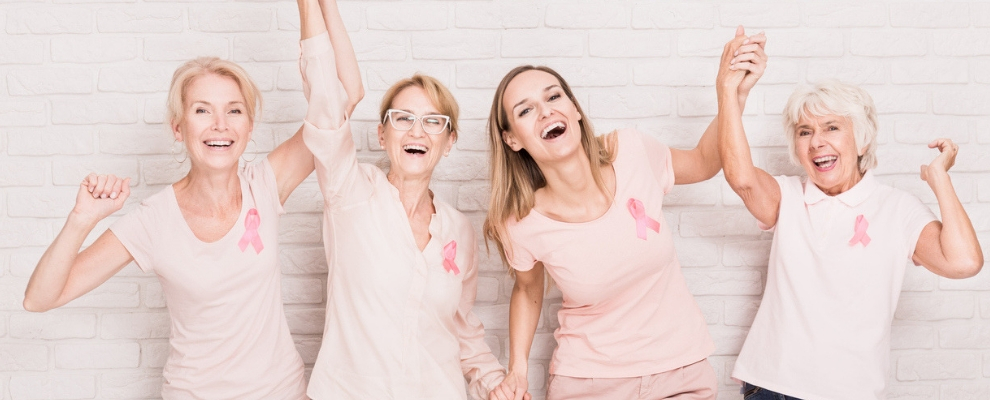 For many recovering from breast cancer, the fitness, camaraderie and adventure offered by team exercise is invaluable. We spoke to women who have taken up dragon boating to get fit and feel better.
With thousands of new cases diagnosed each year according to 2017 statistics from the Australian Institute of Health and Welfare, breast cancer affects women, men and families all over the country. While treatments continue to improve, the road to recovery is often long and challenging.
Dragons Abreast is an international charity founded in Canada by Dr. Don McKenzie to help breast cancer survivors with their recovery. As the Dragons Abreast website explains, Dr McKenzie's research into breast cancer showed that lymphoedema- a debilitating condition common to breast cancer patients - could be eased through upper body exercise, specifically dragon boating.
Inspired by the team mentality and opportunity for adventure, thousands of women across the country turn to one of the 30 Dragons Abreast Australia clubs for support, community, fresh air and a dose of exercise.
The benefits of dragon boating for recovery
The health benefits of dragon boating are clear, as Dragons Abreast Communications Co-ordinator, Vanessa Scott says, "regular exercise is increasingly recognised as a vital ingredient in both the treatment of breast cancer and as a barrier to recurrence.
"Breast cancer treatments including surgery, chemotherapy, radiation and hormone therapy affect the whole body, not just the tumour site. Dragons Abreast allows survivors to regain fitness and health gradually in a supportive environment."
As Vanessa mentions, it's not all about physical wellbeing: "connecting with others, being outside amongst nature and having achievable goals are really important to a breast cancer patient's physical, emotional and mental recovery. Being able to paddle with people who understand what you have been through is deeply significant for many of our team mates."
Life-changing support and a dose of adventure
For Angie O'Reilly, who was diagnosed with breast cancer in 2002, joining Dragons Abreast Australia was a life-changing moment.
"I really struggled after my 12 months of treatment for breast cancer. It wasn't just the illness itself, but how I felt psychologically that was so difficult. After my treatment was finished I became extremely depressed and didn't want to leave the house. It was by pure chance that my breast care nurse had heard of Dragons Abreast and pointed me in their direction. I had my first paddle in 2005 and I haven't looked back since."
All breast cancer survivors, women and men, are welcome at their local club regardless of their level of fitness, Angie says. "If you just want to come along for a chat and a coffee every week and be amongst like-minded people, you can head out for a social paddle. If you do want to take things to a competitive level, there's plenty of scope for that too."
In the 13 years that Angie has been part of Dragons Abreast Australia, she has taken part in major international competitions such as the International Breast Cancer Paddler's Commission in Italy, with her crew the Pittwater Pinks, and the World Club Crew Championships in Hungary held in July this year, where three World competitors in her Bei Loon Women's crew were breast cancer survivors.
"The competition in Florence was so special because there were over 5,000 people participating, all survivors. To be part of a huge group of people with such a significant shared experience was overwhelming. My team is quite competitive and we train up to three times a week. There are also always plenty of opportunities for adventure with Dragons Abreast."
It seems that participating in a group sport like dragon boating has knock-on effects in wider life too, as Vanessa explains: "For many people, paddling with Dragons Abreast Australia is the gateway to getting used to their 'new normal'. Many people find they can more confidently re-enter the workplace and community having found strength in their Dragons Abreast team mates."
Being prepared for the unexpected
At TAL, we are here to support you through the tough times – every claim paid is a promise kept. In 2017, the most frequent cause for claim was cancer, and of these cancer cases, breast cancer accounted for the highest value of claims, with over $46,000,000 paid. You can see a breakdown of claims paid in 2017 in our infographic.
It's important to protect yourself for the long-term and there are a number of health check-ups you can receive throughout your life – for more tips, see our blog.
Should the worst happen, our Critical Illness (Trauma) Insurance could help keep you or your family financially secure.
Use our cover builder to get a quote today.
To get in touch with Dragons Abreast Australia, visit their website and if you're recovering from treatment, speak to your doctor to check if you're able to return to exercise.
THE INFORMATION PROVIDED ON THIS WEBSITE IS GENERAL ADVICE ONLY AND DOES NOT TAKE INTO ACCOUNT YOUR INDIVIDUAL NEEDS, OBJECTIVES OR FINANCIAL SITUATION. YOU SHOULD READ THE RELEVANT PRODUCT DISCLOSURE STATEMENT (PDS) AND FINANCIAL SERVICES GUIDE (FSG) BEFORE MAKING A DECISION TO PURCHASE OR CONTINUE TO HOLD A PRODUCT. LIFE INSURANCE ISSUED BY TAL LIFE LIMITED ABN 70 050 109 450 AFSL 237848.