North Bondi Rescue: One Lifesaver Tells All
This Australian Life -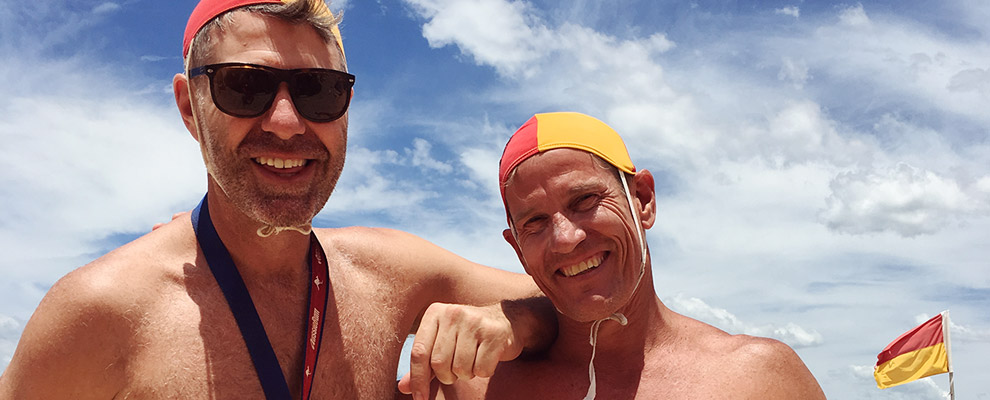 I recently caught up with Drew Lambert, Captain of North Bondi Surf Club's Patrol 13, and he talked about the risks, rewards, incredible rescues and club camaraderie found in Surf Lifesaving Australia.
How did you get into surf lifesaving?
I first joined in 1992 because I needed an extra skill in order to do a summer camp in America. I thought I could be a lifeguard, so I did my Bronze Medallion at North Bondi, but when I got to summer camp I ended up becoming head of the woodshop!
But the surf called you back…
Yes, I did my Bronze again 10 years later. The squad and teachers were so brilliant. There was an amazing sense of community, of having a great time and making great friends. We are a volunteer organisation, so it's got to be a win/win situation. If you don't make the surf club fun and enjoyable they won't stick around. You get health, fitness, friendships… and that makes you want to give back by taking your precious weekend time to look after others. Plus you learn skills, keep fit and get a tan. It's also a good pickup line out at the club [laughs]!
What led you to become an instructor and patrol captain?
It was a natural continuation. I felt almost like it was my duty to instill these values and camaraderie in other squads. I've trained close to 200 Bronze Medallion lifesavers in the decade I've been teaching and I get out of it as much as they do.
You've been a part of some incredible rescues. Can you share one of your most memorable?
A couple years ago, a 10-metre boat headed straight into Bondi bay in the middle of hot summer day. The owner had a medical episode that prevented him from turning the boat around, and the fiberglass hull was headed directly for hundreds of bathers – with nobody at the helm. Our IRB [Inflatable Rescue Boat] drivers manoeuvred out to the boat, boarded it in the middle of the surf break, turned the nose right into two-metre waves, which sent it airborne before they could steer it back out to sea.
Have you ever been involved in a mass rescue?
We won a national award for a mass rescue about four years ago at North Bondi. It was the perfect storm: low tide, huge surf, busy and hot Summer public holiday. So many people were in the water and all of a sudden a freak wave came in and swept a lot of people from between the flags into the trough. People who weren't strong swimmers were dragged into the rip. We sounded the mass rescue alarm, calling all resources on the beach, rostered or not. We grabbed surfboards, rescue boards, tubes, IRBs, council lifeguards; it was all hands on deck. We rescued about 50 people in the space of a few minutes and some were going under, taking their last breaths. If it weren't for the coordination on the beach we would have lost lives that day.
What about on-shore rescues?
Many memorable rescues don't involve the ocean. Five years ago there was a Nippers' carnival with thousands of people on the beach and all of a sudden a panic-stricken mother couldn't find her three-year-old toddler. It was so scary. We had all patrol 13, plus the police, the helicopter. We were searching back streets thinking maybe it was an abduction. An hour later he was found. He had wandered all the way to the southern end of the beach. A three-year-old! It was an extraordinary and stressful rescue utilising all our resources.
Being a surf lifesaver is obviously incredibly physically demanding. What are the physical requirements?
You have to be able to swim eight laps of a 50-metre pool in under nine minutes. Pass that and you are competent enough to participate in the eight-week Bronze Medallion course where you learn First Aid, CPR, medical scenarios, beach conditions, how to navigate waves, and use rescue boards. Then you do an assessment: a practical theory exam and a skills test on the beach. Then you earn your cap!
What is the time commitment to be a lifesaver?
You are rostered on patrol about once every three weeks during the season. Patrols are on weekends, including public holidays. If you're interested, contact your local club for their next intake. They are always excited to have new Bronzies.
To be lifesaver, is there a certain type of person you are looking for?
It doesn't matter if you're black, white, Hispanic, Asian, fat, old, thin, tall, straight, gay, an amputee; all are welcome. You just need to be able to do the qualifying swim and the eight-week course. And if you're not physically fit to do that, there's always some activity you can volunteer with at the surf club. You can help run the vitally important Sunday sausage sizzle!
The ocean poses a lot of risks. What is your advice on how to stay safe?
Know your limits. If you're not a strong swimmer, don't go past the break. If you've been drinking, stay out of the water. If you do pool party tricks, don't try them in an ocean environment because you can easily get into trouble. The overwhelming majority of drownings in Australia over the past year have been men. Men are more likely to drown because they have a sense of bravado and take bigger risks. Know your limitations and swim between the flags. That's where we deem the safest place on the beach and the area we are monitoring most closely. If we see you, we can save you.
You helped to start the group Lifesavers with Pride, which marches in Sydney's Mardi Gras parade. How has that been received?
For me, lifesaving is a no-brainer. It fosters community and it's extremely inclusive. However, a lot of people outside of surf lifesaving think everyone is good looking, fit, white, male and straight, and that maybe they wouldn't be welcome. This couldn't be further from the truth. I thought, how can we recruit more people? We came up with the idea of reaching out to the gay and lesbian community by entering a Mardi Gras float of lifesavers doing a routine in our Speedos and caps. It was so well received. Following that we had so much new interest. To be able to showcase that lifesaving is open to everyone regardless of sexuality, race, age or gender is one of my proudest moments.
How does lifesaving affect the greater community?
Most of the time, your lifesaving skills are called upon off the beach. You can be on a public train, at work, at a nightclub – eventually someone is going to have a medical crisis in front of you. You now have the skills to bring that person back to life, or treat them until paramedics arrive. That is gold. You can't put a price on that.
THIS IS GENERAL ADVICE ONLY AND DOES NOT TAKE INTO ACCOUNT YOUR PARTICULAR OBJECTIVES, FINANCIAL SITUATION OR NEEDS. PLEASE READ THE PRODUCT DISCLOSURE STATEMENT AVAILABLE AT TAL.COM.AU AND CONSIDER WHETHER THIS PRODUCT IS APPROPRIATE FOR YOU BEFORE MAKING A DECISION TO ACQUIRE THIS PRODUCT. INSURANCE ISSUED BY TAL LIFE LIMITED ABN 70 050 109 450 AFSL 237848. PROMOTED AND DISTRIBUTED BY TAL DIRECT PTY LIMITED 39 084 666 107 AFSL 243260.