How to indulge guilt-free this Easter
Life Insurance -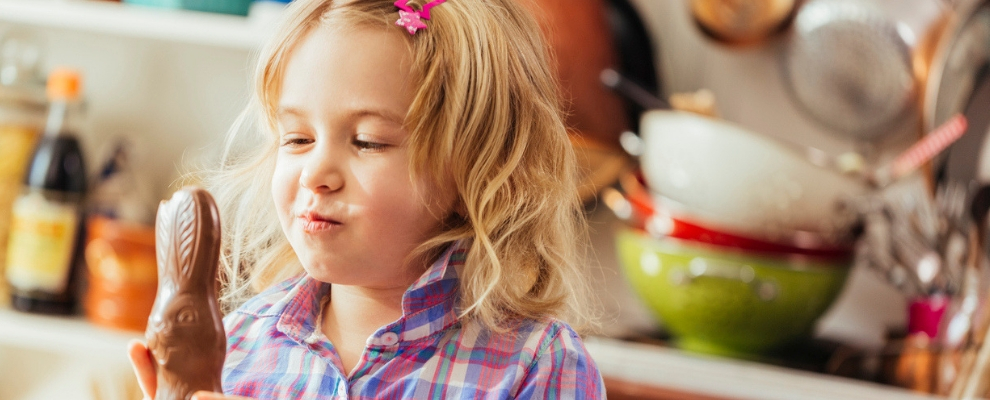 Whether you're working off your Easter chocolate with a long-distance egg hunt, or whipping up other healthier treats – here's how to limit the damage to your waistline this Easter.
Let's face it: chocolate is delicious, but you definitely wouldn't describe it as a health food.
That doesn't mean you have to forego treats altogether this Easter.
Here are three ways to indulge this Easter, knowing that you have good tactics and protections in place.
Choose chocolate wisely

It's probably not realistic to abstain from chocolate altogether. So when choosing your chocolate – or putting in your order with the Easter bunny – opt for dark chocolate. A good quality dark chocolate of 70% cocoa or more may even have health benefits.

Look for a short ingredients list starting with cocoa solids, cocoa butter, and a small amount of sugar. Avoid products including palm sugar, trans fats, butter, milk and margarine.

Buying hollow eggs or bunnies (rather than the solid ones) can also help reduce your intake.

Other treats

Start your day with a nice healthy breakfast like eggs, goats cheese and avocado on wholegrain toast. This combination of high-protein, good fats and fibre should keep you feeling full and stabilise your blood sugar, which can make sweet treats easier to resist.

As the day wears on, indulge in some of the healthier traditional Easter foods – put together a fresh seafood feast accompanied with a range of salads. If you can't do without hot cross buns, make your own healthier version.

Note that some medical conditions may not allow or limit all the intake of some of these foods.

Hop to it

Getting out and about can help distract you from the chocolate bounty in the kitchen and remind you what it will take to work it off.

Even just some light, fun exercise will do the trick. Consider setting up a long-distance Easter egg hunt, holding egg and spoon races, or an egg throwing and catching competition.

Now that you've got your tactics prepared for a healthier Easter, it's a good time to put some health protections in place too, to ensure a happy Easter for many years to come.

Below are four insurance products you may wish to consider whether they are appropriate for your Easter shopping list
Income Protection Insurance
Income Protection Insurance can keep your household running as per usual if you're unable to work due to an injury or illness that has left you Totally Disabled or Partially Disabled.
It eases the financial burden on your family while you're getting back on your feet by providing monthly payments of up to 70% of your income.
Total Permanent Disability (TPD) Insurance
TPD Insurance is designed to help give you, and your family, financial security if an accident or illness causes you to become permanently disabled and prevents you from being able to work.
It can provide you with a lump sum payment, giving you the means to access medical and rehabilitation treatments so you can go on making the most of your life.
Critical Illness (Trauma) Insurance
Critical Illness (Trauma) Insurance can give you financial freedom if you become critically injured or ill and require extensive medical treatment to help recover.
A lump sum payment during this time can fund medical treatment, allowing you to reduce your work hours and concentrate on recovering.
Life Insurance
Life Insurance can provide your loved ones with a lump sum payment in the event of your death, or if you are diagnosed with a terminal illness, helping to ensure their financial security when you can no longer do so.
This can help your loved ones continue living in the family home, fund your kids' education, and reduce the hours your partner works to make ends meet.
Final word
So while they say life is like a box of chocolates, 'you never know what you're gonna get', you can still make educated guesses and tailor insurance to your needs using TAL's Cover Builder.
The information provided on this website is general advice only and does not take into account your individual needs, objectives or financial situation. You should read the relevant Product Disclosure Statement (PDS) and Financial Services Guide (FSG) before making a decision to purchase or continue to hold a product. Life insurance issued by TAL Life Limited ABN 70 050 109 450 AFSL 237848.