Kristie's Story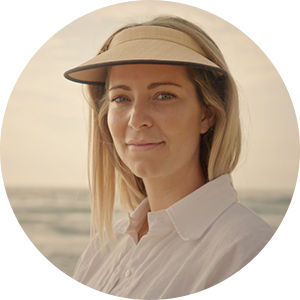 Kristie Webster, 33
Skin cancer survivor
Culturally-speaking, as a nation we are all about enjoying the great outdoors and I think being in the sun goes hand-in-hand with that. But we underestimate just how dangerous that can be. It's tough because we all love having a healthy tan, and it's also down to the instant gratification that we get from being out in the sun all day.
I was always fairly conscious when it came to skin safety – well, as conscious as you can be with two little kids. I would wear SPF when at the beach or outdoors for long periods of time, but on a daily basis I'd be lucky to put a tinted moisturiser with SPF on my face and would actually only wear a hat if it was scorching hot (or if it matched my outfit!). My priority was always making sure my kids were protected and I tended to forget about my own health and wellness. I guess it's a natural tendency for mothers and parents to be looking out for our loved ones when it comes to engaging in skin safety. I'm now paying the price for not being just as diligent when it came to myself.
In February 2018, I was doing my usual morning skin routine and applying face moisturiser when I felt an unusual small white lump under my left eye. I honestly didn't think twice about it, I actually just thought it was a blind pimple. I carried on with my life and normal routines. Little did I know; hindsight is a powerful thing.
A couple of months passed, and I was telling my sister about the lump and she recommended I get it checked out asap by a professional. We're really close and she harassed me until I did finally get it checked, and it was lucky that I did.
Within only a week of getting my skin checked, I was given unexpected news.
The skin specialist checked my whole body for freckles, moles, and spots on my skin. I was told that I had an aggressive Basal Cell Carcinoma (BCC) growing in my face that needed removing immediately. He explained that BCC is the most common type of skin cancer that develops on parts of the body that are heavily exposed to the sun, and it often starts with a small lump or sore that doesn't naturally heal. I don't think I realised how common BCCs are and how quickly they can appear on the skin until this appointment.
I was in so much shock. Firstly, so shocked that the results came back positive for skin cancer. And secondly, shocked that it was on my face, in such a noticeable and visible place on my body and that I had absolutely no idea. It was at this point that I realised I needed to be more careful and take any measures to protect myself.
It was so terrifying to hear that if I didn't have the BCC removed immediately it would spread across my entire cheek. Naturally, I booked my surgery with a plastic surgeon the next week. I couldn't book it fast enough.
The morning of my surgery I was so unbelievably nervous. I was scared of the unknown, I was scared of having my face cut open, I was scared that the cancer may have spread, I was scared the surgery wouldn't be successful, and I was scared they wouldn't get it all out.
I thank my lucky stars the surgery was successful, and the surgeon was able to completely remove the cancer.
The recovery process took a number of weeks and it left me with a number of stitches. When I was finally able to remove the stitches, I had to wear a skin colour tape over the scar for an additional two weeks.
My surgery left me with a deep, red scar the shape of a "P" on my face. I was super diligent with putting a scar treatment cream on my face daily and was conscious to not get any sun exposure on my face.
The sun safety message has become so ingrained now into my consciousness.
My scar is still quite prominent and it's my daily reminder to be sun smart. At first, I was embarrassed and was always trying to hide the scar with makeup. But now when I look at it, I'm grateful that I got that skin check and caught the cancer before it developed. It could have been a very different outcome if I didn't get that check and I will be forever thankful to my sister for encouraging me.
I now have to get my skin checked at a specialised skin cancer clinic every 12 months, given my history. Whenever I get checked I will post about it on my social channels and remind my family and friends to do the same. I know I'll be spreading the word forever, because I've experienced firsthand the importance of skin checks.
I know self-checking is just as important as getting regular professional skin checks. I check all my moles and freckles that I already have to ensure that they haven't changed in appearance. My husband also checks the ones on my back that I can't quite see because I know if anything changes, I'll need to go for a professional skin check straight away.
Skin safety is now at the forefront of my mind every day. For me this means ensuring my body is covered, wearing SPF on any exposed skin, and wearing a hat when outdoors. For me it's the whole "slip, slop, slap". I also keep a really close eye on my kids to make sure they are aware of the dangers of the Australian sun too. My family and my kids are the reason I am so vigilant with my sun protection and skin checks. I want to be around to support and love them.
Australians need to be more vigilant than ever with their skin checks and with their skin checking behaviours in detecting and preventing skin cancer. We all need to put ourselves first and look after our skin.