Dai-ichi Life
We're proud to be part of Dai-ichi Life, with our shared mission of being 'By your side for life'.
We're part of the Dai-ichi Life Group. Starting with the Dai-ichi Life Insurance Company, which was established in 1902 as Japan's first mutual insurance company. Today, the Dai-ichi Life Group is one of the world's largest life insurance groups, with consolidated ordinary revenues of $89 billion AUD and consolidated total assets of $716 billion AUD (as of 31st March 2022).
Our shared mission: By your side for life
Dai-ichi Life's founding philosophy of Customer First was displayed to the world during the earthquake and subsequent tsunami on 11th March 2011. Faced with enormous challenges, Dai-ichi Life's people immediately went to look for survivors at the evacuation centres, so they could receive their payments. Dai-ichi Life was able to contact nearly all customers in the affected areas and deliver benefit payments for 860,000 policies.

This dedication has meant Dai-ichi Life's relationship with its customers (kizuna in Japanese) is now even stronger because of this experience. Such strength - and unwavering focus on putting the customer first - is why we're immensely proud to be part of the Dai-ichi Life Group, with our shared mission of standing by our customers and their loved ones, for life.
This mission has guided an employee philosophy statement and how we work with each other, our customers, and our communities. It represents a strong belief that employees need to have a working environment where they feel inspired to grow, have a sense of belonging and feel energised and supported. It is who we are on our best day, and what we want to be everyday.
Dai-ichi Life Group Employee Philosophy
Growth is not a solo endeavour. As over 100 years of experience has taught us, growth comes from belonging to something bigger than ourselves.
At Dai-ichi Life Group, we are by your side, growing with you. Challenging you. Supporting you to prosper. Protecting the wellbeing of all, now and for the future.
Wherever you are with us, and wherever you go in our group, we work together to open up a world of opportunities.
Group Partner Locations
The Dai-ichi Life Group has offices, subsidiaries and joint ventures bases in North America, Europe and the Asia Pacific region.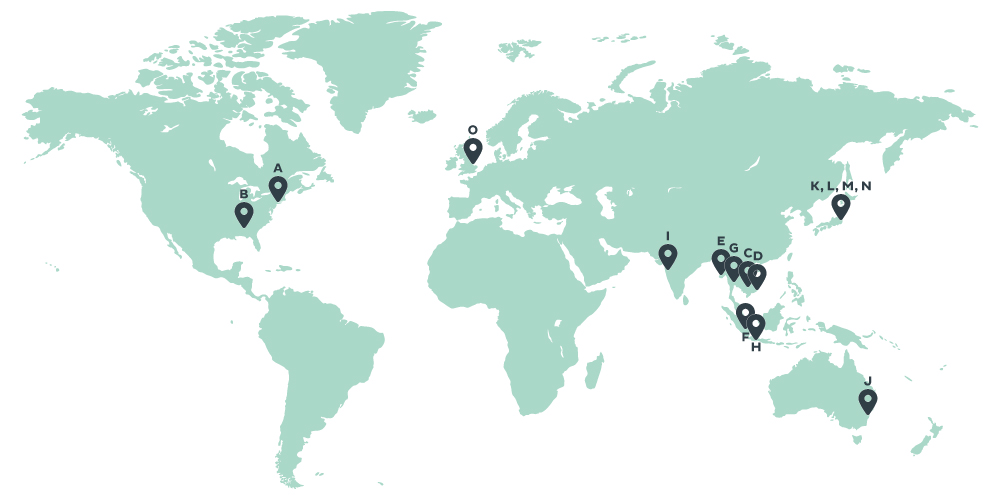 USA
A. DLI North America Inc.
400 Park Avenue, 4th Floor
New York, New York, 10022, USA
Phone: 1-212-350-7600
B. Protective Life
2801 Highway 280 South,
Birmingham, Alabama 35223, USA
Phone: 1-205-268-1000
www.protective.com
ASIA PACIFIC
C. Dai-ichi Life Insurance (Cambodia) PLC
Vattanac Capital, Level 06, Suite 0601 & 0610-0612, 66 Monivong Boulevard Sangkat Wat Phnom, Khan Duan Penh, Phnom Penh, Kingdom of Cambodia
Phone: 855-23-955-333
https://dai-ichilife.com.kh/
D. Dai-ichi Life Insurance Company of Vietnam, Limited
149-151 Nguyen Van Troi Street,
Ward 11, District Phu Nhuan,
Ho Chi Minh City, Vietnam
Phone: 84-28-3810-0888
www.dai-ichi-life.com.vn
E. Dai-ichi Life Insurance Myanmar Ltd.
20th Floor, Sule Square Office Tower,
No.221, Sule Pagoda Road
Kyauktada Township, Yangon, Myanmar
Phone: 95-977-880-1000
https://www.dai-ichi-life.com.mm/
F. DLI Asia Pacific PTE. LTD
12 Marina View, #24-03/04,
Asia Square Tower 2,
Singapore
Phone: 65-6805-0550
G. OCEAN LIFE INSURANCE PUBLIC COMPANY LIMITED
170 / 74 - 83 Ocean Tower 1 Bldg.,
Rachadapisek Road,
Klongtoey, Bangkok, Thailand
Phone: 66(0)-2261-2300
www.ocean.co.th/en
H. PT Panin Dai-ichi Life
Panin Dai-ichi Life Center,
Jalan Letjend. S. Parman Kav.
91, Jakarta 11420
Phone: 62-21-255-66-888
www.panindai-ichilife.co.id
I. Star Union Dai-ichi Life Insurance Company Limited
11th Floor, Vishwaroop IT park, Sector 30 A,
Opp. Vashi Railway Station,
Vashi, Navi Mumbai - 400703
Phone: 91-22-3954-6300
www.sudlife.in
J. TAL
Level 16, 363 George St,
Sydney, NSW 2000, Australia
Phone: 61-2-9448-9100
www.tal.com.au
JAPAN
K. Dai-ichi Life Holdings, Inc.
13-1, Yurakucho 1-chome,
Chiyoda-ku, Tokyo 100-8411, Japan
Phone: 81-3-3216-1222
www.dai-ichi-life-hd.com/
L. The Dai-ichi Frontier Life Insurance Co., Ltd.
Osaki Wiz Tower, 17th floor,
11-1, Osaki 2-Chome,
Shinagawa-ku, Tokyo 141-0032, Japan
Phone: 81-3-6685-6500
www.d-frontier-life.co.jp
M. The Dai-ichi Life Insurance Company, Limited
13-1, Yurakucho 1-chome,
Chiyoda-ku, Tokyo 100-8411, Japan
Phone: 81-3-3216-1211
www.dai-ichi-life.co.jp
N. The Neo First Life Insurance Company, Limited
Osaki Wiz Tower, 17th floor,
11-1, Osaki 2-Chome,
Shinagawa-ku, Tokyo 141-0032, Japan
Phone: 81-3-5434-7031
http://neofirst.co.jp
EUROPE
O. Dai-ichi Life International (Europe) Limited
6th Floor, 6 Gracechurch Street,
London EC3V 0AT, UK
Phone: 44-20-7220-1770