Top 10 secret & secluded Australian beaches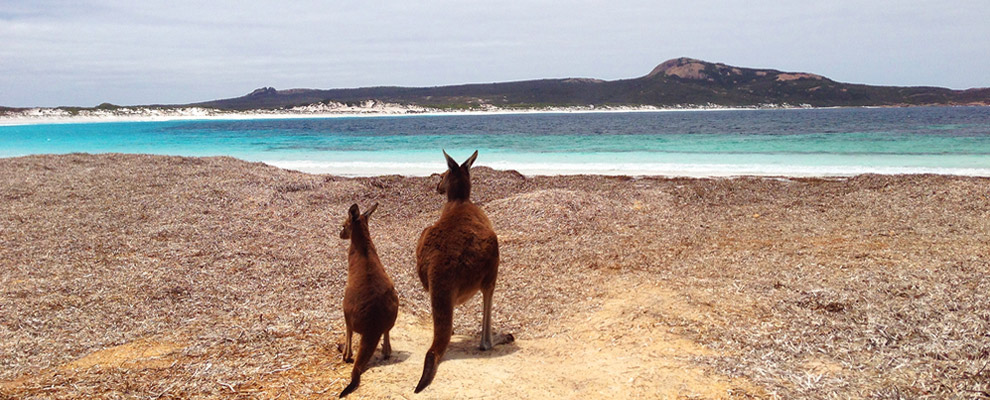 There's more to Aussie beaches than Manly, Bondi and Surfer's Paradise. Here, David Hayward of Australian Air Holidays offers his top picks. Get there before the masses and enjoy sun, sand, solitude and… kangaroos?
1. Punsand Bay – Cape York, Queensland
"Just 5 kilometres west of the Cape York tip, are the little-known but spectacular sands of Punsand Bay. Unspoilt bush meets crystalline waters where the tropical sun rises in the Pacific and sets over the Arafura Sea in the Indian Ocean. Just ahead are the Torres Strait Islands and Papua New Guinea. Beachfront camping is just one perk to a visit to Australia's northernmost point, which might also feature hiking, sightseeing, birdwatching, fishing, or spotting one of the region's more notorious residents… Swim only where safe and beware of stingers and crocs."
2. Kings Beach – Broken Head, New South Wales
"South of Byron Bay, you'll find an otherworldly stretch of white sand with plenty of leafy rainforest and pandanus trees to provide the right amount of shade so you can stay all day. Just uphill from Tallow Beach there's limited parking (be mindful of signage, Byron Council makes a fortune on parking fines), then a brisk downhill bush hike to arrive at this horseshoe shaped paradise. You'll discover an astounding assortment of flora, local brush turkeys, absolutely no mobile phone reception – and perhaps a few nude sunbathers. Kings is as untamed as it is special."
3. Vivonne Bay – Kangaroo Island, South Australia
"Looking out on the Southern Ocean from Kangaroo Island, Vivonne Bay isn't easy to access, but no ideal spot ever is. Your efforts though will land you on an enviably long stretch of white sand perfectly suited to relaxation, romance, barbecues and bushwalks. Nearby, you'll find a huge colony of sea lions and, if it's action you're after, rent a toboggan and sled down the sand dunes known as Little Sahara."
4. Yellow Rock Beach – King Island, Tasmania
"A gravel road drive and a short sandy trek end to reveal the remote splendour of Yellow Rock Beach. An ocean approach is not recommended, for this beach is notorious for its many shipwrecks – one of which can be seen from the shore. It's hard to pick just one beach in Tasmania for timeless secrets, but Yellow Rock has it all: perfect sand, colourful seashells, nesting birds, wind in your hair, and a reminder of nature's awesome power."
5. Cape Woolamai – Phillip Island, Victoria
"Cape Woolamai is a secluded golden beach with a backdrop of mighty basalt columns, called the Colonnades. Become one with nature as you follow walking tracks, meditate on the beach, picnic in the dunes or hike the southside cliffs, which are home to a rookery of thousands of shearwater birds. If you brave the surf, the views are no less spectacular, and you just may have it all to yourself."
6. Milk Beach, Sydney, New South Wales
"This gem sits on the shore of the upscale Vaucluse neighbourhood. Sydneysiders are spoilt for choice with vast stretches of overpopulated Pacific Ocean sand. Avoid the crowds and head toward Neilsen Park, then walk a short way past the heritage-listed Strickland House. On the tiny stretch of sand below at Milk Beach, you can swim, sunbathe, picnic and enjoy the spectacular views that only savvy locals know about. Forming part of the harbour coastline, it sports glorious views of Shark Island through to the Harbour Bridge and CBD."
7. Sealers Cove – Wilson Promontory, Victoria
"Inhabited by Indigenous tribes for thousands of years, this idyllic cove became a trading post for sealing, whaling, and logging in the late 18th Century. Its splendid natural attributes have been protected by the government since 1908, making it a no-brainer for intrepid beach goers looking to get away from it all. Sheltered from winds and barring vehicle access, the 11km hike into the inlet promises a pristine natural beach, unspoilt surrounds and blissful solitude."
8. Lucky Bay – Cape Le Grand National Park, Western Australia
"Ever wanted to see kangaroos lazing around on an ocean beach? Lucky you found Lucky Bay. Four-wheel-drive vehicles are recommended for this one-of-a-kind beach, which is an easy drive from the must-see town of Esperance. You'll encounter squeaky white sand and turquoise waters reminiscent of the South Pacific, as well as several places to drive in the sand, swim, snorkel and camp. For the intrepid, a steep hike up Frenchman's peak offers a stunning birds-eye view of the area."
9. Shady Beach, Yirrkala – East Arnhem Land, Northern Territory
"At the northeast corner of the Northern Territory is isolated and remote Shady Beach. The local Indigenous Gumati people remain custodians of this beach (they won a 2010 Australian Clean Beaches Award for their hard work) while also honouring their traditional way of life. It's all about heritage along this permanently tropical, vivid blue beach with protective lush greenery. Shady Beach is a pristine paradise hardly touched by the outside world. It's not easy to get to, but several tour operators including Australian Air Holidays have excellent packages. Put East Arnhem Land on your bucket list."
10. Burning Palms, Royal National Park, New South Wales
"The charming secrets of Burning Palms Beach are accessed via the two-day (one-day, if you walk fast) trail from Otford to Bundeena in the Royal National Park, or choose a 30-minute hike downhill if you drive into the park. Perched in the green hills above the beach are dozens of shacks; dwellings that have been in place since the Great Depression. To ensure you remain safe in the waters of this remote hotspot, Burning Palms maintains an active surf club with lifesavers patrolling during summer. Hike a little further down for the famous figure eight pools, or a few hours north for the picturesque and popular Wedding Cake Rock."
Every Australian story is different. That's why TAL lets you tailor your insurance to your specific needs. Find out how.
THIS IS GENERAL ADVICE ONLY AND DOES NOT TAKE INTO ACCOUNT YOUR PARTICULAR OBJECTIVES, FINANCIAL SITUATION OR NEEDS. PLEASE READ THE PRODUCT DISCLOSURE STATEMENT AVAILABLE AT TAL.COM.AU AND CONSIDER WHETHER THIS PRODUCT IS APPROPRIATE FOR YOU BEFORE MAKING A DECISION TO ACQUIRE THIS PRODUCT. INSURANCE ISSUED BY TAL LIFE LIMITED ABN 70 050 109 450 AFSL 237848. PROMOTED AND DISTRIBUTED BY TAL DIRECT PTY LIMITED 39 084 666 107 AFSL 243260.