What you need to know about the future of better health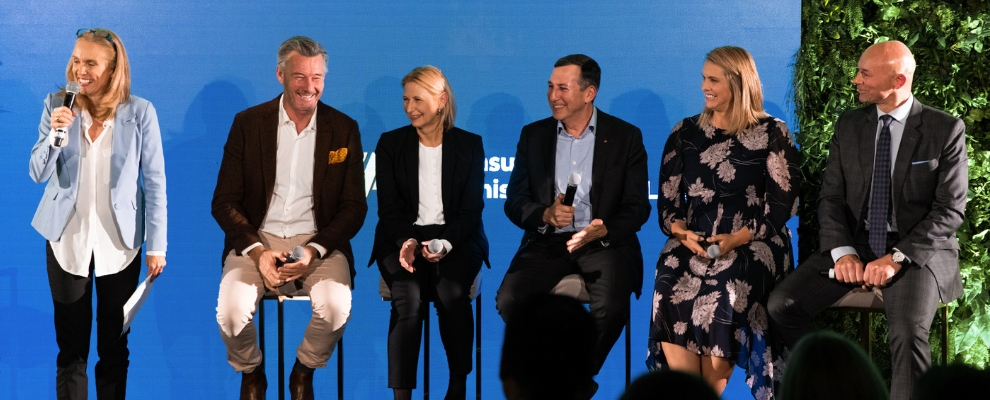 What is the outlook for Australians' health, and how will advances within the medical community help ensure we continue moving towards a future of better health?
That's the question we put to a panel of leading health experts and high-profile Australians, to shed some light on the key health innovations and advances in understanding which could shape the future of health in Australia and around the world over the next 10 years.
The rise of 'personal medicine'

A common theme of the discussion revolved around the changing way in which the medical profession is approaching treatment, to tailor it to the individual.
According to Professor Michael Boyer, Chief Clinical Officer at Chris O'Brien Lifehouse, the healthcare system is turning towards a more patient-led and collaborative approach to ensure people can access the right expertise, when they need it.
"All medicine is personal, but we're really talking about identifying individual characteristics and making sure we're getting the maximum benefit because we've used the correct treatment [for the individual]," Prof Boyer said.
Better health through understanding
The way in which the world around us is impacting our health was also examined, including the role deeper understanding can play in helping improve overall wellbeing.
Four-time Olympian, Libby Trickett spoke about her own experiences struggling with mental health, particularly as she transitioned into different phases of her own personal life.
"I first experienced depression when I retired from swimming – the transition into the real world is challenging, but the biggest challenge to my mental health has definitely been the transition into parenthood." she said.
Nick Glozier, Professor of Psychological Medicine at University of Sydney, said the experience was a common one: "It's not just about being happy and getting a happy drug, it's about all these other aspects of our life that are really important to a meaningful life."
"Engagement, relationships, meaning and achievement – those are the four pillars of flourishing," he said.
One way Professor Glozier sees this coming to life is through the use of new technology, apps and social media to improve health literacy.
"There are 1,500 apps out there for treating depression, and yet there's only evidence for 32 of them – we need to have a literacy around how we access the ones that work and provide the evidence on those that really do work."
But he said contrary to popular belief, the research on the relationship between social media and mental health suggests it can actually be an important tool in connecting people during recovery.
"There are actually real positives around social media – you have online forums for support groups, you have people who reach out to find what has actually worked for other people."
He said social media can be 'demonised', but in actual fact people gain a lot of autonomy through those online connections.
Dr Sally Phillips, TAL's General Manager of Health Services, pointed to TAL's CORA app, which seeks to connect people with others who have had a similar experience during recovery, to provide support and understanding through their own health journey.
RUOK? Ambassador, Barry Du Bois, endorsed the approach, saying: "To have a belief that somehow, someone is going through something you've gone through and they're okay is a great relief".
Holistic and preventative health
The panel also looked at the important role holistic health is set to play in living well and helping prevent disease in the future.
Dr Phillips said a key part of the future of better health is going to be helping empower people to realise that good health and wellbeing is under their control, and connecting them with the importance of embracing prevention as part of ensuring their best health.
"We look at health holistically at TAL, and for us that means considering physical health, mental health and financial health."
Professor Boyer agreed, saying "I'd like to really see a recognition that good health and wellbeing is something that's actually under our [own] control."
Du Bois, a well-known Designer and TV personality who continues his own battle against a rare and aggressive form of cancer diagnosed at 52, spoke about his own journey in understanding the importance of holistic health.
"I've spread my treatment out across what the medical industry tells me, and what I know I can do for my brain and my respiratory [system] and my nutrition, so it's a really broad thing for me," he said.
Professor Glozier said it's common to underestimate the importance of simple things like sleeping and eating well, when it comes to an individual's overall health outlook.
"Sleep and circadian rhythms are fundamental to our health."
The future of better health
Looking to the future, Professor Boyer said the outlook for cancer patients is improving every day: "If you live to the age of 85, one in two of us will develop cancer – that's the bad news."
"The good news is, in the last forty years the 'five year survival rate' has increased from 48% to 68%."
"We will see cancer go from a disease that you have, where you have treatment and maybe you beat it or maybe you don't, to something that you live with for very, very many years."
One thing all panellists agreed, was that it was down to the individual to understand and embrace those things they could do personally to ensure they are moving towards a future of better health.
But the greatest benefits would come from all of the participants in people's lives – from the medical industry to their service providers – working together to help them live more healthy lives.
Said Dr Sally Phillips: "I would love for us as life insurers, along with our partners, to be an integral part of the health system and a tool in patients' tool bag to make them feel better, either from a prevention or from a support perspective."
To see the highlights from the panel discussion, visit our Future of Better Health page.
TAL is not a health insurer. If you need someone to talk to or have concerns about your mental health, seek help immediately by calling Lifeline on 13 11 14 or Beyond Blue on 1300 22 4636.