The biggest ever AFL grand final upsets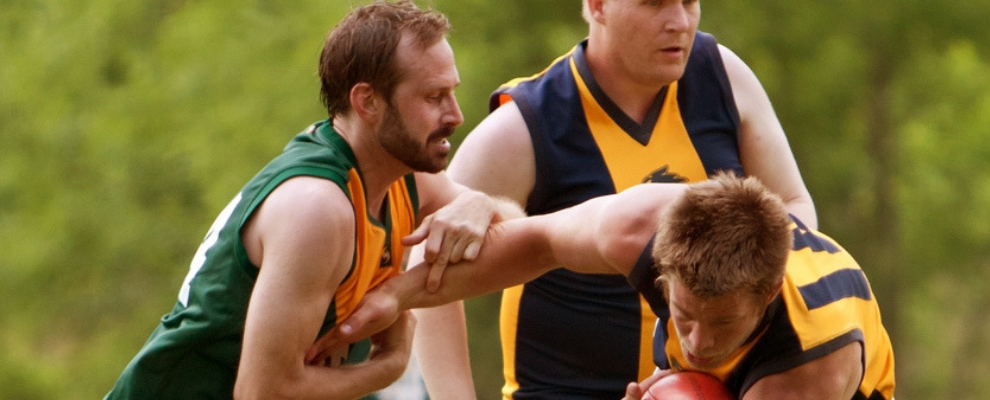 We Aussies love to back an underdog, which is fortunate, because there's been no shortage of shock AFL/VFL grand final upsets over the years. Here's our top four.
2016 Western Bulldogs 13.11 (89) vs Sydney Swans 10.7 (67)
They say every dog has its day. Well, the Western Bulldogs had to wait 62 years for theirs after having last won an AFL/VFL flag in 1954.
The Doggies were up against a star-studded Sydney Swans outfit that had topped the premiership table and won eight of their last nine matches.
With just seven minutes remaining, the Doggies held a slender 1-point lead over a fast finishing Sydney before managing to kick clear and become the first team in VFL/AFL history to win the premiership from seventh place on the ladder.
2008 Geelong 11.23 (89) v Hawthorn 18.7 (115)
Geelong, the reigning premiers, had won 23 out of 24 games that year – the most wins ever in a home and away season – including 15 on the trot.
While Hawthorn finished second on the ladder, and had won both their previous two finals matches convincingly, they were still $3.05 outsiders.
Geelong started strong and held the lead early in the third quarter. However a goal from Lance Franklin from outside 50m kicked the Hawks into gear – and the lead – and they never looked back.
1970 Collingwood 14.17 (101) v Carlton 17.9 (111)
Collingwood entered the final as red-hot favourites, having beaten Carlton three times already that season, including two weeks prior.
Played before 121,696 people at the MCG, the largest crowd ever to witness a grand final, Carlton looked down and out at half time with a 44-point deficit.
But perhaps inspired by Alex Jesaulenko's 'Mark of the Century' towards the end of the second quarter, as well as some astute tactical changes by champion coach Ron Barassi, Carlton came back strongly in the third quarter to set up a 10-point win that gave birth to their arch-rivals' infamous nickname the "Colliwobbles".
1958 Melbourne 9.10 (64) vs Collingwood 12.10 (82)
So confident were the Melbourne Demons that they had organised a cake for the post-match celebration that read "Premiers, 1958, four-in-a-row", according to a Herald Sun article.
You couldn't really blame them though. They'd beaten Collingwood in nine of their past ten matches, including a 45-point thumping a fortnight earlier.
Things looked to be headed the same way at quarter-time of the GF, with the Norm Smith-coached Demons up by 17 points.
However it was then that Collingwood opted for a change of tactics, with stand-in captain Murray Weideman saying to his team's tough man Barry 'Hooker' Harrison: "Let's see who we can collect", according to the Collingwood website.
Soon after the two collided heavily with a number of Melbourne players, who were thrown so far off their game that they were more focused on retaliation than winning another flag.
Expect the unexpected
Fortunately in life – as opposed to footy grand finals – you're able to protect against unexpected losses through extensive life insurance options, including TAL's Life Insurance, Income Protection Insurance, Total Permanent Disability (TPD) Insurance, and Recovery (Trauma) Insurance.
Because if the above examples all have one thing in common with life, it's that it doesn't matter how confident, prepared, or well you and your tribe are tracking, the wheels can quickly fall off even when you're at your best.
If the impending footy grand final has fuelled your competitive spirit and inspired you to take up a sport, check out our infographic on Australia's most popular sports and common sporting injuries.
THE INFORMATION PROVIDED ON THIS WEBSITE IS GENERAL ADVICE ONLY AND DOES NOT TAKE INTO ACCOUNT YOUR INDIVIDUAL NEEDS, OBJECTIVES OR FINANCIAL SITUATION. YOU SHOULD READ THE RELEVANT PRODUCT DISCLOSURE STATEMENT (PDS) AND FINANCIAL SERVICES GUIDE (FSG) BEFORE MAKING A DECISION TO PURCHASE OR CONTINUE TO HOLD A PRODUCT. LIFE INSURANCE ISSUED BY TAL LIFE LIMITED ABN 70 050 109 450 AFSL 237848.